Just a couple of photos of some creatures that I have found in the garden this year.. two Giants!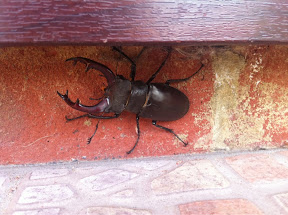 The stag beetle was nearly 6cm long, is an endangered species and so was good to see it in May - it stayed underneath the door to the house for 2 days much to the delight of my boy!
I've not seen a stag beetle for a long time, probably a good 20 - 25 years and so I managed to resists the requests to kill it as I knew it would eventually fly away over night - this is the time it looks for food and too mate. Good old Google!!
Then came the Gaint Slug. This one was nearly 3 inches and sat there on the garden slab all morning in June. Apparently The UK is the slug capital of the world and so this is not an endangered species. The facts say that in every cubic meter there will be 200 slugs in the UK.
The size was the rarity for me and again the requests to kill it came thick and fast. How does a 5 year old boy know that salt kills slugs?All I had was go on Dad put Salt on it... I was tempted but I never. When I came home later the slug was gone and there was no slime trial to the soil - although there was slime where it was. I did wonder if a bird took it!
Posted using BlogPress from my iPhone